Basement Finishing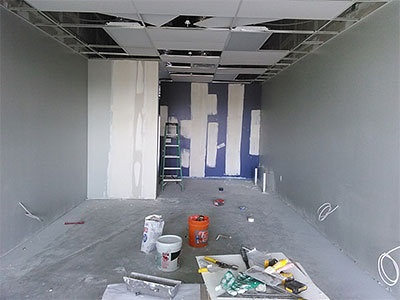 Finishing your basement can provide valuable living space and add value to your home. An unfinished basement is often an underutilized space that can be transformed into a comfortable and functional living area. Whether you're looking for extra space for your family, a home office, or a place to entertain guests, finishing your basement can provide you with the additional space you need without the hassle and expense of building an addition.

Productive Quality Construction is your go-to source for basement finishing services in Atlanta, GA. We are a team of experienced contractors specializing in transforming unfinished basements into beautiful, functional living spaces that meet our client's needs and exceed their expectations.


Range of Basement Finishing Services
Our company has been operating in this space for several years, and we know that every homeowner's needs and preferences are unique. That's why we offer a variety of basement finishing options to suit your specific needs and budget, including:


Entertainment Room - The perfect space for hosting family and friends, an entertainment room is preferred by homeowners who want a comfortable and functional space for movies, gaming, and socializing.


Home Gym - If you want to stay fit and healthy, a home gym may be just what you need. Creating a custom gym that fits your workout routine requires the kind of expertise we bring.


Home Office - As more people are working from home, a home office has become a must-have for many homeowners. We can create a comfortable and functional workspace with everything you need to be productive.


Guest Suite - If you frequently host out-of-town guests, a guest suite can provide them with a comfortable and private space to stay. Our experts will plan a suite with a bedroom, bathroom, and living area, so your guests can feel right at home.


Playroom - If you have kids, a playroom can provide them with a safe and fun space to play and explore. Our team can design a playroom with age-appropriate toys, games, and furniture.


Efficient and Timely Basement Finishing Solutions
Regardless of the type of basement finishing you're looking for; we are committed to delivering timely and high-quality results. We recognize that home renovations can be disruptive to your daily routine, which is why we work efficiently and minimize disruptions as much as possible. We offer guarantees on our services to ensure that our clients are completely satisfied with the results.


Contact The Basement Finishing Experts Now
Productive Quality Construction is the company to contact if you're looking for a reliable and high-quality contractor for your basement finishing needs. From initial design to final touches, their team will work with you to ensure that your finished basement meets your exact specifications. We create the best experiences for our clients; it's how we have built a solid customer base in the region.

Call Productive Quality Construction at 770-217-7560 to schedule your consultation and transform your basement into the space you love to use. You can also email us using our Online Form, and we'll call you to go through the specifics of your project.