Kitchen & Bathroom Remodeling in Atlanta, GA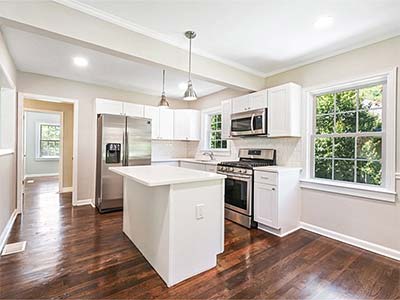 The kitchen and bathrooms are two areas that demand attention in your home. These spaces are heavily utilized and contribute significantly to the overall comfort and appeal of your living environment.
At Productive Quality Construction, we specialize in providing customized and cost-effective solutions for kitchen and bathroom remodeling projects in Atlanta, GA.
Preferred Kitchen & Bathroom Remodeling Professionals
We recognize the significance of creating functional and visually pleasing spaces within your home. That's why our team of experts is committed to delivering high-quality remodeling services tailored to meet our clients' unique needs and preferences.
Whether you envision a modernized kitchen or a luxurious bathroom upgrade, we possess the expertise and experience to transform your ideas into reality. From conceptualization to completion, we work closely with you to understand your goals and requirements.
Our skilled professionals leverage their knowledge and craftsmanship to execute the remodeling project with meticulous attention to detail, ensuring a result that exceeds your expectations. Upgrade your kitchen and bathrooms confidently by choosing Productive Quality Construction as your remodeling partner.
Customized Kitchen Remodeling Services
Revamp your kitchen with our comprehensive range of general construction solutions to transform your space into a functional and visually stunning culinary haven. We offer an array of services tailored to meet your specific needs and style preferences:
Our skilled craftsmen create beautiful and functional cabinets, custom-made to suit your unique requirements. We use high-quality materials and precise techniques to ensure longevity and superior aesthetics.
Upgrade your kitchen countertops with our selection of materials, including granite, quartz, marble, and more. Our experts will guide you in choosing the perfect option to enhance your kitchen's beauty and functionality.
Give your kitchen a fresh look with our durable and stylish flooring options. From hardwood to tile or vinyl, we provide professional installation services that align with your taste and budget.
In addition to these services, we also specialize in lighting upgrades and backsplash installations, adding the perfect finishing touches to your kitchen remodel.
Specialized Bathroom Remodeling Solutions
Elevate your bathroom experience with our comprehensive range of high-quality bath remodeling services. Our company can help transform your bathroom into a functional and luxurious oasis with various services such as:
Choose a superb vanity/countertop for your bathrooms from our wide selection. We offer options to suit any style and budget, and our team will ensure precise installation according to your specifications.
Replace your old bathtub with a modern, custom-designed shower. Our skilled team can remove your existing tub and install a beautiful shower enclosure tailored to your needs and preferences.
Upgrade the look and functionality of your existing shower with our remodeling services. We'll transform your shower into a stylish and rejuvenating space from new tiles and fixtures to custom glass enclosures.
Select from our range of flooring options, including tile, hardwood, or vinyl, to achieve the ideal look for your bathroom. Our meticulous installation guarantees a flawless finish.
Enhance the ambiance and functionality of your bathroom with upgraded lighting and electrical systems. Our experts can install or add outlets/switches and ensure optimal safety and convenience.
We provide solutions for improved accessibility, including grab bars, walk-in tubs, and accessible showers, making your bathroom safer and more accommodating for individuals with mobility needs.
With us, you can expect only the best services. Experience the ultimate kitchen and bath remodeling experience and enjoy using practical, attractive, and comfortable spaces.
For more details about these and our other remodeling services, please call Productive Quality Construction at 770-217-7560. You can also email us through this Online Form, and we will call you back to discuss your project details. We are here to help with all your big and small kitchen and bathroom remodeling needs.