Decks & Porches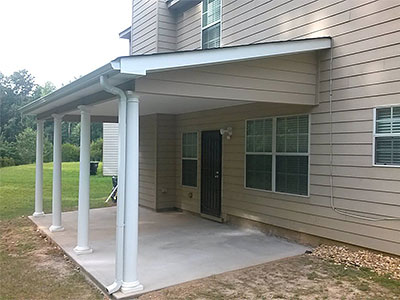 Decks and porches are a great way to extend your living space and enjoy the outdoors, and they are a valuable addition to your home. A deck or porch can significantly increase your home's value and curb appeal. They provide an excellent space for entertaining guests, relaxing with family, or enjoying the fresh air.

If you don't have a deck or porch, consider installing one. With so many design options and materials available, you can customize your deck or porch to fit your style and needs and enjoy the benefits for years to come. At Productive Quality Construction, we are the home improvement experts in Atlanta, GA, offering deck and porch design and installation.


Unique Deck Design Ideas
Our deck designs are tailored to meet the needs and preferences of each homeowner. We offer various deck design options, including traditional, modern, and custom designs. Our team of experienced designers works with the latest software and technology to create design models of your deck, so you can see the final product before construction begins.

We use only the best materials for our deck designs, including wood, composite, and other high-quality materials. Our deck designs are created with functionality in mind so they look great, serve a purpose, and meet your specific needs. We provide design ideas for decks of all shapes and sizes, from small balconies to large, multi-level decks.

Our deck design ideas also consider the surrounding landscape and architecture so your deck seamlessly blends with your home and outdoor environment. We are dedicated to designing and installing decks that exceed your expectations and provide a beautiful, functional space for you to enjoy.


Our Custom Porch Design and Installation
At our company, we take pride in offering high-quality porch design and installation solutions that meet the needs and preferences of each homeowner. Our experienced designers work with you to create a custom solution that blends seamlessly with the existing structure and outdoor environment. We understand the importance of creating a porch that looks great, functions well, and meets your specific needs.

We offer unique designs and layouts tailored to your lifestyle and preferences. We use only the best materials for our porch installations and complete every project to industry standards to ensure that your porch is superb in every way. Whether you're looking for a cozy entryway or a large wrap-around porch, we've got you covered.


Call the Decks and Porch Experts Today
We're here to assist with all remodeling tasks, whether big or small. Ultimately, you will have decks and porches that meet your demands and endure for a long time, thanks to our meticulous attention to detail.

Call Productive Quality Construction at 770-217-7560 for more information on this and our other services. You can also email us using our Online Form, and we'll call you to go through the specifics of your project.