Services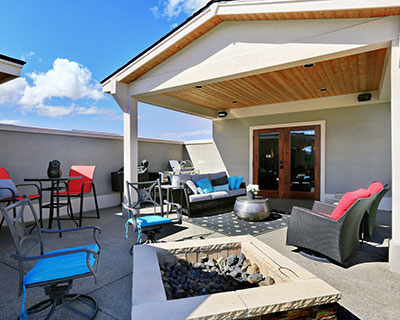 We at Productive Quality Construction are a property maintenance and full-service construction company situated in Atlanta, Ga. Over the years, we have built a very solid customer base here and cater to clients in and around the entire metro Atlanta area.
We also serve customers in Gresham Park, Druid Hills, Decatur and North Decatur; and have successfully completed projects across North Druid Hills and East Point, as well as Belvedere Park. Our company has also handled a significant number of projects in Panthersville, College Park, North Atlanta, and the surrounding areas. The ranges of services we provide include:
Kitchen & Bathroom Remodels
Our team is here to help with all your big and small kitchen and bath remodeling needs, focusing on quality, timely completion, and affordability. Whether you're looking for a simple update or a complete renovation, we've got you covered. Our team of experienced designers and contractors will work with you to create a custom solution that meets your needs and fits within your budget. We use high-quality materials and expert craftsmanship to ensure that every project we complete is of the highest quality, regardless of the budget. We ensure that the final product aligns with your needs and gives you a kitchen and bathrooms that are functional and long-lasting. While we create the perfect indoor spaces, we also create the best experiences for our clients, and that's one of the many things that sets us apart from the competition. We are committed, driven, and skilled enough to meet your kitchen and bath remodeling requirements. Read More About Kitchen & Bathroom Remodels »


Basement Finishing
If you're ready to transform your basement into a beautiful and functional living space, we are the company to call. We understand that finishing a basement is a significant investment, so we are committed to providing our clients with a transparent and hassle-free process. We'll work closely with you to understand your budget and help you make informed decisions that meet your needs and preferences without breaking the bank. Our team of experienced contractors can handle every aspect of your project, from design and planning to construction and finishing. Our skilled contractors will work closely with you to understand your needs and preferences. We'll use high-quality materials and expert craftsmanship to ensure your finished basement is beautiful and functional. With our commitment to quality, timely completion, and guarantees of our work, you can trust us to deliver the results you want and deserve. Read More About Basement Finishing »


Decks & Porches
We provide our clients with superior decks and porch installations that meet their needs and preferences. We use the latest materials and techniques to ensure that every deck and porch are of the highest quality and long-lasting. Our experienced designers and contractors will work with you to create a custom solution that fits your style, budget, and functional requirements. We understand that every homeowner's needs are unique, so we offer a range of customization options for your deck or porch, including size, shape, color, and material. From composite to wood, we have a variety of materials to choose from, so you can find the perfect fit for your home. Our team will help with material selection and design input. Whether you're looking for a cozy porch or a spacious deck for entertaining, we've got you covered. We create great decks and porches that complement your home and increase its value. We also ensure that our services are within your budget and offer the best value. Read More About Decks & Porches »


Home Remodels
We offer tailoring home additions to each client's taste and requirements. For this reason, we provide a wide variety of house addition choices, including second-story additions, room expansions, and garage conversions, to accommodate each client's individual needs. The skilled designers on our team will use cutting-edge software to produce designs for your proposed home addition before beginning construction. All the house extensions we create are made from high-quality materials chosen for their practicality and longevity. Furthermore, we value your time and strive to accomplish all jobs quickly and efficiently to cause you the least inconvenience possible. Increasing your home's square footage is a great way to raise its value and make it more marketable when selling. From attic and basement conversions to second-story additions, we have the knowledge and equipment to complete any home addition project. Read More About Home Remodels »


Mitigation & Restoration
You can trust our company for all your mitigation and restoration needs. With years of experience and a team of highly trained professionals, they can handle any mitigation or restoration project, no matter how big or small. We understand how devastating it can be to deal with damage caused by natural disasters. That's why we provide efficient and effective solutions that meet the needs of our clients. We act quickly and efficiently, which helps stem the damage, making restoration activities more effective. From water damage to fire damage, they have the expertise and equipment to do the job quickly and efficiently. With a commitment to customer satisfaction and a focus on quality workmanship, you can rest assured that your project is in good hands. We help with all big and small mitigation and restoration requirements. Read More About Mitigation & Restoration »


Design & Build
Our design-build construction process provides transparency, control, faster production, and the promise of high quality. As a full-service construction company, we offer services from designers, architects, engineers, and contractors all under the one roof. During the design phase, you will get insights into the designing process. This will allow you to view your building taking shape even before the construction begins.
Our unique approach to construction allows you to get in touch with a single source of contact. This means greater efficiency, speed, and quality control. Our clients can get involved at different stages of the process.
There is complete transparency in the project, and you can make amendments as and when required. Read More About Design & Build »
General Construction
Our company has the knowledge, skills, experience, resources and the expertise to handle all kinds of general construction projects ranging from new home build to remodeling, addition &extension projects. We also handle smaller commercial construction jobs. Regardless of the scope of the project, you can rest assured that every job will be completed in the best possible way and within the stipulated timeframe. We use the best materials and workmanship in our projects and provide our customers value for money. Read More About General Construction »
Painting
The walls of your home are some of the largest features in your property and their appearance has an impact on the features, furniture, installations, and decor in the rooms. Well-painted walls uplift the appearance of the décor and furniture in that space. But you need to hire a skilled &experienced painting contractor like us for the job. We can handle interior and exterior painting projects and ensure that the best quality materials are used in the work. We provide color consultations and make sure that the walls in your home are a reflection of your tastes and preferences. Read More About Painting »
Drywall
Whether you want new drywall installations or replacement of existing drywalls on your property, we are the company that that can handle it all. We offer a wide range of Gyprock solutions such as drywall installation, drywall patching, and repairs, hanging drywall, drywall finishing, drywall skim coating, popcorn ceiling removal &repair, and new ceiling installation; we also handle step/fall-through-ceiling damage and repair plaster walls as well as removal and replacement and repairs of water-damaged drywall. Read More About Drywall »
Carpentry
When you hire us for carpentry tasks on your commercial or residential property, you have the assurance that skilled and experienced professionals are handling the job and that only the top grade materials are used in the work. We can handle new carpentry jobs, and repairs of existing timber feature in the indoor and outdoor areas of your property.
As part of these services, we can handle a wide variety of jobs such as repairs of wood rot, window & door installation, replacement & repairs, deck construction &repairs, trim & molding installation, fence installation, replacement& repair as well as closet door design & installation. Read More About Carpentry »
Flooring
Whether we are handling your new build or remodeling project, our skilled designers have comprehensive discussions with you on the material, styling, and patterns you want on your floor. We handle indoor flooring installation and outdoor flooring jobs; and can install stunning floors in areas like decks, terraces, patios and poolscapes etc. The range of flooring materials you can choose from are-tiling, natural stone or brick; carpeting, hardwood, vinyl, laminates, bamboo, cork and more. Read More About Flooring »
Decks
We follow a set and detailed work process when handling wooden deck projects. Our designers will have detailed discussions with you to understand what your ideas and specific needs are. In addition, they keep the styling and architecture your home in view while providing residential deck design and plans. We can build decks made of wood, vinyl, composite, aluminum etc. and can also install shade structures such as pergolas on the decking. Read More About Decks »
Remodeling
Most people don't like moving out of the neighborhood they have lived in for a long time. But sometimes they find that the existing space doesn't meet the growing needs of their family. The best solution in these circumstances is to get some remodeling work done. This can include tearing down or building internal walls to change the dimensions of rooms, additions, extensions, renovations of the basement and attic spaces etc. Read More About Remodeling »
Windows
Window installation is generally a part of a boarder home construction project, but we can also repair and replace windows in your existing home. If you live in an older structure that has wooden windows or if the existing glass windows aren't as energy-efficient as you would like them to be, we can custom design and install double or triple-paned energy-efficient windows on your property. These windows have argon gas filled in between the sheets of glass which improves their insulating properties. Read More About Windows »
Handyman Services
It's common for small problems to surface on even very well-maintained properties because many of the features and installations see daily use. Our expert handymen can handle home repair as well as all types of minor remodeling jobs such as finish and rough carpentry, kitchen and bathroom fitting repairs and replacements, windows and doors repair and installation; in addition, we also handle roof and gutter repair as well as painting and renovation jobs. Read More About Handyman Services »